Coastline Vape Co.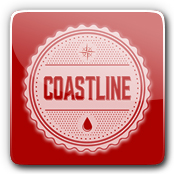 Announcing Coastline Vape Co, premium vapor juice line from the guys who brought you Ripe Vapes. Every taste of one of the four flavors will give you a sense of cool nostalgia and take you to a laid-back state of mind.
Introducing Zuma, Stinson, Aquidneck, and Lost: each flavor is reminiscent of a coastal beach and developed to please even the most experienced connoisseur. With flavor notes like crisp cucumber and dragon fruit, homemade peach cobbler, bright lemon with mixed berries and berry-lime ice cream yogurt, Coastline Vape Co. brings together flavors that create a taste unlike any other juice line. Never too sweet or overpowering, these complex flavors are combined to complement each other for an overall smooth, layered taste.
Each of the four Coastline flavors are exclusively made with 100% Tobacco Free Nicotine (TFN). Without the interference of traditional nicotine taste, Coastline Vape Co. delivers to its customers the purest flavor with the highest quality ingredients. Tobacco Free Nicotine, TFN, has virtually no smell or taste of its own, yet adds to the fullness and complexity of our four outstanding flavors. For shops and distributors, please be our guests and contact us via email, phone or social media to try them today with our compliments.
There are no products in this section