Kanger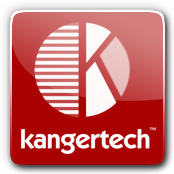 Kangertech are the original manufacturer and distributor of the Kanger Protank range of atomizers and tanks, they have a globally established range of Evod, and E-Smart electronic cigarettes, pro vaping tanks and devices.
With over 2500 employees and a strong team of professional designers, they are regularly bringing new and innovative products to market and with a strict quality control procedure they guarantee the highest quality product at a competitive price.
Buyers should beware of the many sellers of fakes and clones of devices and tanks made by this brand, they will not have been through the same quality control or design process and may contain sub-standard materials, Kanger devices have been targeted hard but you can rest assured as an authorised dealer we will only ever offer you products that come directly from Kangertech themselves.